Ferreries is just past Mercadal, a little more to the west of the center of the island. There is already evidence that it existed in 1301, in the time of Jaime II of Mallorca.
There are two versions of the origin of its name. The first makes mention that there was a blacksmith in the vicinity (Ferreries means blacksmiths in Spanish) and, the second, is that it is a spelling deformation of "Fraria" (which in Spanish would be Fraile) since the primitive church of Saint Bartholomew, patron of the town.
It has 4,777 inhabitants and is located in a valley, between some mountains of the island such as s'Enclusa and those of San Telmo.
What to see
Ferreries has ravines of great beauty such as Algendar (worth visiting) which ends at Santa Galdana beach, a few kilometers from Ferreries, and Son Fideu, which flows into the wonderful beach of Trebelúger.
Near the beach of Santa Galdana, we will find those of Mitjana and Mitjaneta, of spectacular beauty.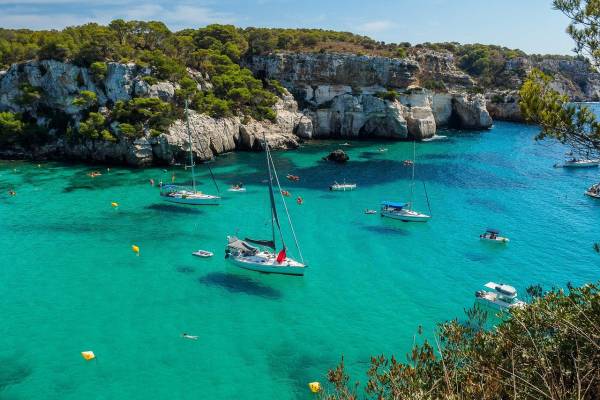 Macarella Menorca
On the north coast we will find the "macar" (round stone beach) of Los Alocs, from where you can walk to the beaches of Cala Pilar and Cala En Calderer. The Alocs and the nearby Cala Macarrà are part of the Menorca Marine Reserve due to the rich and abundant animal life that inhabits its waters.
The rugged landscape of the north coast of Ferreries is worth seeing. A wild beauty typical of the north of the island, which is battered by strong Tramontana winds in winter.