Menorca is well known for its beaches with crystal clear waters and for the tranquillity you can breathe in. It is one of the best preserved islands in the Mediterranean (not in vain is it a Biosphere Reserve) which has begun to pay off, especially in times of pandemic, placing the island in the international spotlight which has meant that it has begun to overtake its sisters (Mallorca and Ibiza) in terms of tourist interest.
Normally, anyone wishing to buy a property in Menorca has in mind to do so in one of the most important towns (Mahon or Ciutadella) or in Fornells, famous for its fantastic bay. It is also common to buy in a coastal holiday village or a country house in the interior.
However, the great unknowns are the small villages of Menorca which, in our opinion, have a special charm as they have preserved the flavour of the island through the ages. Today we are going to take a look at some of them along with some of the properties you can buy.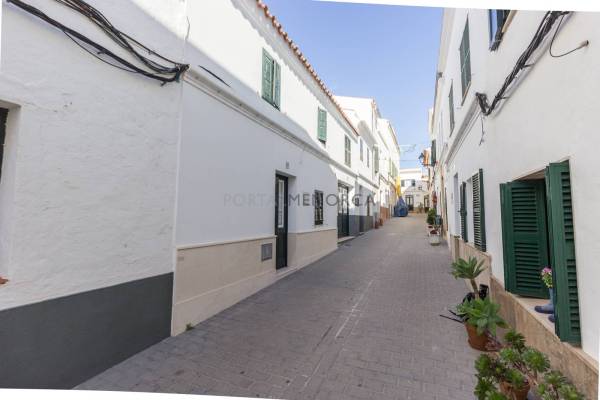 Typical Menorcan house in Es Migjorn, Menorca
Es Migjorn
A few kilometres from Es Mercadal, the nerve centre of the island, is the bucolic village of Es Migjorn. This beautiful village maintains the soul of the island in all its essence with small streets, whitewashed houses and traditional shops. It also has a bar famous on the island for its tapas of Menorcan food. It is also very close to Santo Tomás, one of the most famous beaches on the island.
Here is a beautiful Menorcan house that we have for sale in this village:
https://venalismenorca.com/en/es-migjorn-gran/house-17885658/
Typical Menorcan house in Es Castell, Menorca


Es Castell
This wonderful village is only 4 kilometres from the capital (Mahón) and has a beautiful harbour full of bars and restaurants called Cales Fonts which is one of the most beautiful spots on the island. It also has all the services and its parallel streets denote its creation by the British army at the time of its domination. It was originally called Georgetown in honour of King George of England.
Here is a magnificent Menorcan house in this village:
https://venalismenorca.com/en/es-castell/house-17643909/
Typical Menorcan house in Sant Lluis, Menorca


Sant Lluís
Near the south coast of Menorca, on the east side, we find the magnificent village of Sant Lluís. On this occasion, it was founded by the French during their domination. It stands out for its beautiful centre and its avenue and, in addition, a few kilometres away we find the famous beaches of Binibeca, Punta Prima, Alcaufar, Binissafuller and many others.
Here you have a typical Minorcan house for sale in Sant Lluís:
https://venalismenorca.com/en/sant-lluis/house-1682547/