Continuing with the theme of the last article, we are going to continue seeing the areas preferred by Menorcans to spend the summer on the island of Menorca. We repeat that in summer there are both locals and tourists vacationing in any corner of the island but Menorcans have always preferred the less touristy coastal places and in this series of articles we are going to present them to you.
The villages
Alcaufar
Alcaufar is a small fishing village with about 130 inhabitants that is located in a beautiful "cala" of the same name in the south of the island and near the town of San Luis. At the entrance we find the Torre de Alcaufar (an old defense tower) and a small island called L'Illot des Torn.
Its water is spectacularly crystal clear and even in the month of August you can breathe peace and tranquility. For this reason it is one of the favorite summer places of the Menorcans.
It is not easy to find a house next to the sea since they rarely go on sale, nor is it easy to find a villa in the area. Luckily, right now we have this one whose reference on our website is H1989.

Biniancolla
Biniancolla has the particularity that it is traditional and touristy at the same time since it has a nucleus made up of typical Menorcan houses surrounded by chalets. The advantage is that you can have either of the two things, although it is not easy to get a property in this area. It is also located on the south coast and near the town of San Luis.
Its waters are also spectacular and you can breathe tranquility and peace even in the summer months.
At this time we can highlight a villa that we have in this area and whose reference on our website is S2730.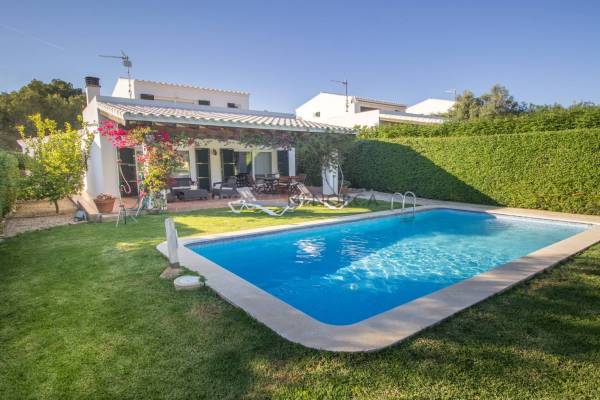 Biniancolla beach Menorca
In the next article we will continue talking about the places preferred by Menorcans.