In summer, obviously, we find both Menorcan residents and tourists spending the summer anywhere on the island, but which are the favorite places for the Menorcans?
As we are going to explain below, there are small towns and traditional urbanizations which are not usually frequented by tourists, although those who discover them sooner or later begin to think about acquiring a property there, since the picturesque environment is almost magical. You could say that it would be a kind of equivalent to Italian Tuscany but on the island of Menorca.

We are going to see all these places in Menorca in several articles spread over a few months.
The villages
Es Murtar
It is a very small town on the north coast of the island, very close to Mahón, with few typical Menorcan houses, many of them with views of the sea. Here you will find the essence of local tourism since these small houses are used by Menorcans on summer days. Here you can see the only one we have at the moment for sale because the offer in Es Murtar is usually very scarce. Its reference is M8199.
Sa Mesquida
Following the philosophy of Es Murtar but already larger, it has a typical Menorcan restaurant highly appreciated by the locals as it is also off the beaten path. In addition, its practically virgin beach is beautiful and a few meters from the town. We advise you to visit the town and if you like it and want to buy an apartment in it, let us know to take it into account, since there are few that go on sale and are in high demand.
Es Grau
Very similar to the previous two, but even bigger, it has a restaurant and two bars, as well as a small grocery store. Here we will not only find summer apartments but we will also find houses and villas, but always in Menorcan style. As an incentive, it has a beach and is very close to Den Colom Island, with a little boat that comes and goes every hour so you can also enjoy those virgin beaches.
In addition, it has a lagoon with many birds so if you like ornithology or photography you will be in your sauce. Right now we have a renovated typical Menorcan house in Es Grau. Its reference is V2933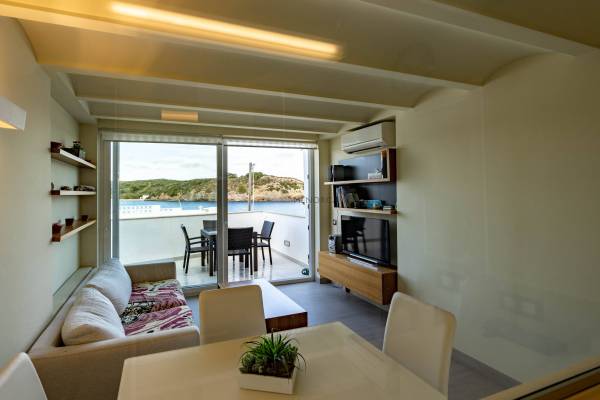 Es Grau Menorca
Next month, we will continue with the topic.