Menorca is full of beaches and calas (beach coves) with an unbelievable crystal clear turquoise waters. Since 1993 has been a protected UNESCO Biosphere Reserve so this helped to keep the island practically untouched with a lot of wild beaches without ugly and big buildings that appeared in the spanish shore during the 70's, due the touristic boom.
Menorca is a paradise on earth
Being the less known of the Balearic Islands, Menorca has been kept away from the mass tourism and is a truly paradise on earth as you will see if you have the opportunity to visit the island.
The beaches
I always say that in Menorca we have two islands in one. The north shore is more rocky with amazing cliffs and more reddish sand and the south one has limestone and a very white sand.
But lets start with the beaches.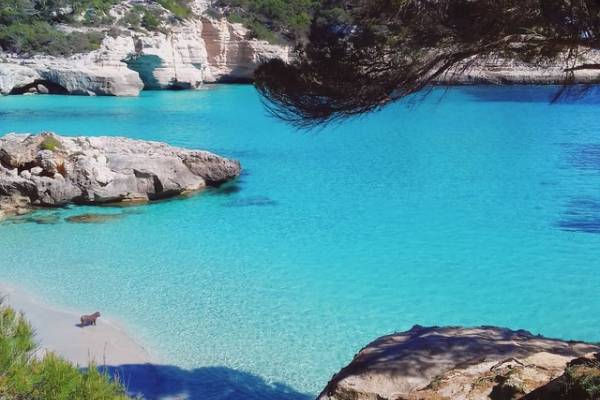 Cala Mitjana Menorca
Cala Mitjana and Cala Mitjaneta
These two sisters are very well known in the island due their amazing white sand and crystal clear water. Surrounded by cliffs and with a pine forrest in the background make them two of the most beautiful beaches of the island. In fact, they are that close that you can swim from one to another without any problem or you can use the little dirt road that connects both beaches.
To get there, you can drive to Cala Galdana, close to the town of Ferreries, and walk from there to both beaches. Don't worry, is very well indicated.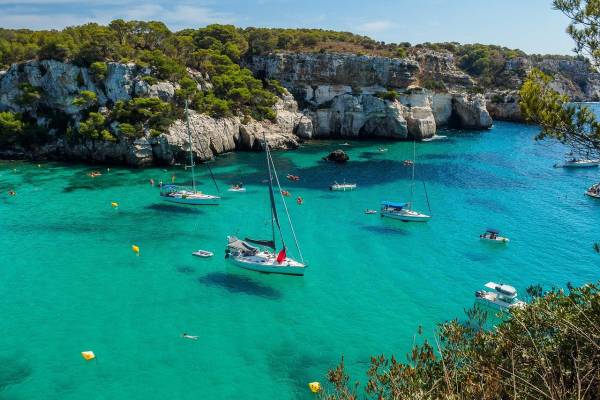 Macarella Menorca
Cala Macarella and Cala Macarelleta
Next to Cala en Turqueta (we will see that beach in the next article) we can find two more "sisters": Cala Macarella and Cala Macarelleta, both connected with a path with breathtaking views. By the way, rs better to wear a good pair of shoes because that paths have some stones. Like they "cousins" Mitjana and Mitjaneta the sand is incredibly white and the water is "like a mirror" as the menorcan say.
In the next article, we will talk about more interesting beaches in Menorca but, if you fall in love with the ones that we have talked about today, we are Estate Agents in Menorca for all the island and, in Fincas Venalis Menorca, we have a vast offer of apartments and villas close to these beaches.