Menorca, being an elongated island, basically has two coasts: the north coast and the south coast.

We, the islanders, know both well since it is the wind that determines in summer which of the two will be better to bathe. If the wind blows from the north, the south coast is the one that will be more sheltered and vice versa.
Choosing a coast
However, which is more beautiful to buy a house? The north coast or the south coast? You will allow me to answer you directly with the answer and then explain it to you: both, it depends on your tastes.
If you like a more rugged landscape, with high cliffs and virgin beaches with sometimes difficult access, the north coast is the one to choose. It is the best for long walks and to get lost between paths that pass through coves, beaches and forests. The beaches tend to have a darker sand.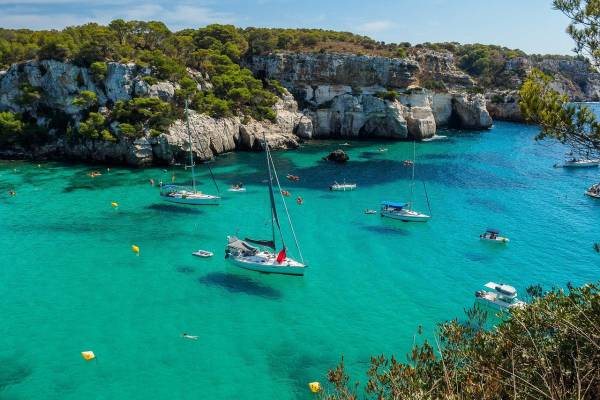 South Coast of Menorca
On the other hand, if you like beaches of fine white sand, often surrounded by small cliffs of white limestone rock and you cannot live without services such as "chiringuitos" (beach bars) and small urbanizations with restaurants and bars where to eat or have a drink, this coast will be the ideal for you, specially if you have kids.
Where is the water on the beaches better?
The quality of the water on the beaches does not have to worry you at all. If they have something in common, it is one of the most crystalline waters you can find on the planet. Menorca is a Biosphere Reserve and that implies that the quality of the water on its beaches is, and must, be exceptional.
We advise you to enter our search engine and see which properties you like the most on the coast of your choice: https://venalismenorca.com/es/comprar/