The small and paradisiacal island
Menorca has a surface area of only 695.7 km2.
To put us in perspective, Madrid has a metropolitan area of 2,891 km2, London 5,157 km2 and Paris 3,043 km2.
Menorca's main advantage is that it is an island paradise, but that is also its main disadvantage since, unlike the cities mentioned above, Menorca does not have more land to continue growing. What there is is what there will be and, when the available land runs out, if new construction is to take place, the only solution will be to tear down something already built and build a property in its place.
Therefore, we already have the first reason for acquiring land in Menorca: the scarcity of buildable land and its lack of capacity to continue to grow as happens in other parts of the peninsula.
The pandemic has placed Menorca in a privileged location
The COVID-19 pandemic that we have experienced in recent years has meant that the world has turned its eyes to quieter places with less overcrowding during the tourist months. As a result, it has been gaining positions among the most desired tourist destinations and, slowly but surely, it is already the preferred choice of the Balearic Islands ahead of Mallorca and Ibiza.
This has led to an increase in interest in the island not only among Spaniards, but also among French citizens and has been maintained among the British.
In addition, the fact that the prestigious art gallery Hauser & Wirth has chosen Menorca as the location to open its new art centre, has turned the eyes of the world to our small island. And many people have started to buy property here, whether to come and live here, to spend their holidays or simply as an investment.
The property boom is here to stay
Unlike other property booms, the one Menorca is going through at the moment is unlikely to have a crisis because there is so much demand and so little supply. Having protective laws for the environment (let's remember that Menorca is a Biosphere Reserve) has made it one of the best preserved islands in the Mediterranean, with no large, ugly buildings to spoil its image. If we add to this the fact that there are people from different countries interested in buying in Menorca, it will be difficult to stop the interest in acquiring a property or land in Menorca.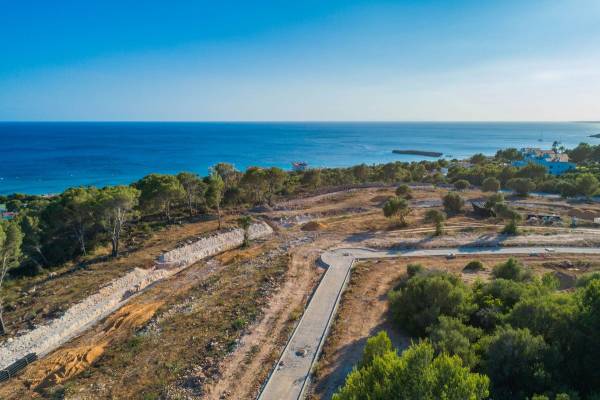 Plot of land in Menorca
Why a plot of land?
There are many reasons for wanting to buy land in Menorca. Let's take a look at some of them:
Because of the scarcity of land on the island. As we have seen, it is a small island and when the building plots run out, it will be difficult to build anything.
Because the high demand for land means that prices are constantly rising. It doesn't matter when you buy a plot of land. After a few years, it will always sell for more than it cost. Therefore, it is a great investment nowadays.
To build your dream home. This reason should perhaps be the first one. Menorca is a true paradise just a short flight away from the Iberian Peninsula and with more and more direct flights to the main capitals of Europe, so living on an island is not necessarily synonymous with living in isolation.
Our offer
On our website we have a section of plots of land so that you can choose the one that best suits your needs and, of course, we will be happy to help and advise you for your peace of mind.